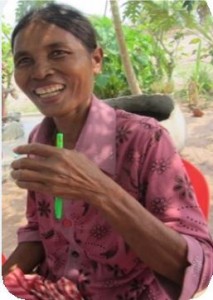 Mrs Cherueb has every reason be sad and angry. But she's happy and peaceful, and she blames FEBC's FamilyFM in Cambodia!
Em's husband died of aids in 2003. He left her with two daughters, an urgent need for income, and much bruising after years of physical and emotional abuse. He also left her HIV positive.  Amazingly, she says "I still loved my husband even though he treated me that way."
"It was very difficult for me and my daughters. I looked around at all my neighbours and saw how happy they seemed. How I wished I could change things, but everything seemed hopeless. I became angry with the girls. I didn't speak to them with positive words, and I didn't give them affection."
Then one night Em tuned her radio and came across a song full of encouragement and hope. She heard someone talking about someone called Jesus who could save people, and who is resurrected from the dead! She says she didn't understand much, but kept listening. In fact, she has listened every day since then, and now she knows that Jesus Christ is God, and through FamilyFM God has made her a new person, full of hope and joy.
"I have learned how to use encouraging words with my daughters, and how to love my neighbours. My anger has disappeared."
Mrs Cherueb found a local church and is part of the community there now. She goes on to say "Every time I go to the rice field I bring my radio with me. I like to sing along out loud. Now my neighbours come and visit me and ask me why I'm so happy. Family FM has helped me understand that no matter what is going on in my life, I will always be with Jesus."
"May the God of hope fill you with all joy and peace as you trust in him, so that you may overflow with hope by the power of the Holy Spirit." Romans 15:13
Be encouraged,
Matt