Several times in the Gospel of John we're told that people "put their faith in Jesus" while he was either speaking or doing amazing things (John 2:11; 7:31; 8:30; 12:11).  In fact in John 8 Jesus was in a powerful verbal struggle with the hypocritical religious Pharisees who were simply trying to catch him out and discredit his words. Jesus had just declared himself to be the "Light of the world" (v.12), then the argument took off. What I love is that after all the back and forth of words, we're told "Even as he spoke, many put their faith in him."(v.30)
Whether it's a bold radio programme or a contentious discussion on the street with a neighbour, conversations are powerful. The key in this text seems to be to stay loving and to stay on subject:
your testimony (v.14);
God is Father (v.16, 18, 19, 27, 28, 29);
Jesus is Lord and God (v.12; 16, 18, 19, 21, 22, 23, 24, 25);
the suffering and resurrection of Christ (v.28);
light for this life, and eternal life are available for all who will follow Jesus (v.12).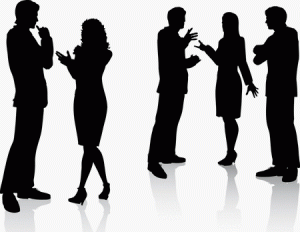 The promise of being the light of the world that Jesus spoke of was not side-tracked in the exchange of words, it was actually what was happening – the truth was being revealed as Jesus and the Pharisees where speaking. The thing was they thought they were discrediting Christ, while He was in fact illuminating truth!