When the Apostles Peter and John were arrested and threatened after healing a crippled man in Jerusalem, it's fascinating to see what they were commanded not to do, and to consider what was ignored. It is also fascinating to read how they prayed and what they asked God for once they were released.
They were told NOT to speak or teach any more in Jesus' name (Acts 4:17). The miracle that they saw God perform through their faith seems to have been ignored. This is congruent with my experience in missions in closed countries but also here in free-and-lovely New Zealand: Governments and non-Christian authorities are quite happy with healings, health facilities, and educational give-aways of course. But the minute you start clearly articulating your allegiance to Jesus and the motivation for your acts of kindness …. you'll meet resistance. That's life and we need to get used to it.
It is also interesting to consider how and what they prayed once they were released: they raised their voices and said "Sovereign LORD – you made the heaven and the earth and the sea and everything in them…" Their first thoughts were for The Almighty nature of God. The focus was on the greatness of God to create. Then they asked for two very important things …
and not one of them was "protection."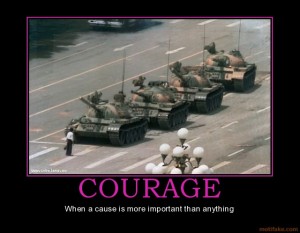 They asked God for the ability to speak boldly, and for God the Almighty to continue performing miracles.
God gives ability to speak. We cannot say to Him or others "O I could never say that", or "I could never do that" because the ability to speak boldly in Jesus name comes not from ourselves, but by the Spirit of Christ Himself (Acts 4:29).
Secondly, they did not so much ask God to stretch out His hand and perform miracles, but they assumed He would continue to do so! (v.30)
Mission Radio has a unique ability to speak very boldly into nations and hearts, but we too need to trust the Spirit of Christ to enable us to open our mouths and make known His goodness and grace. For some very helpful commentary on The Importance of Using Spiritual Gifts see Lloyd Rankin's latest Vineyard Leadership Letter.
Take Home:
When persecuted, pray more for ability to speak boldly than for protection;
Remember our God is the Sovereign Creator of the Universe! Assume He will do great things in your world.
Matt