Imagine you are a young soldier in the military.
Imagine you serve under a totalitarian regime who regularly murder and abuse innocent civilians.
Imagine your unit enters a village and the people scatter out of sheer fear for their lives.
Imagine that the one man who is forced to stay behind and cook for you, hands you a tract about the One True God, and His Son Jesus Christ.
Imagine you tune in to Christian radio and discover that they talk about the same God – and you become deeply convinced, deeply happy.
Imagine you start praying to God, but you don't really know how.
Imagine writing to the radio station and asking for help.
Imagine your delight when they write back, answering your questions,  and send you  a pocket Bible, in Burmese.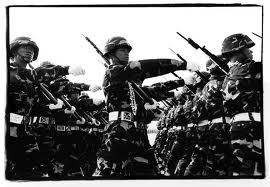 "I was shaking and my eyes were full of tears. I was so happy."