One of our unofficial slogans in FEBC is "On-air, online, and on the ground." Communicating with people on-air and online can be done from miles away, but talking about God on the ground can pose some real dangers. Recently some of our team in FEBC Thailand went out on one of their many sojourns into the community, but this time they needed body guards!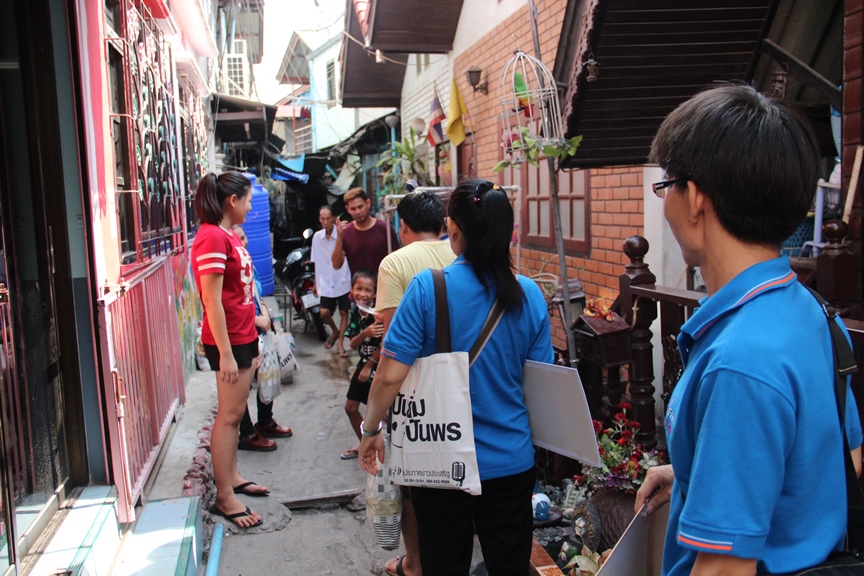 These are no ordinary suburbs. They are slums packed in below the motorway, very cramped and very poor. Dangerous places well known for drug gangs and criminal activity. So the FEBC team contacted a church inside the community and organised four bodyguards to escort them through. Like most of our stations, the team went out into these communities to talk personally about Jesus, to tell people face-to-face about the life-giving broadcasts, and to deliver radios to people who need them. They didn't need protection because they were unpopular or unwelcome, but as we know – drugs and poverty cause people to do some very unpredictable and violent things.
They met many people throughout the alleyways. Sat and chatted with them. Gave radios to those who wanted them. They even helped one family pick bugs out of the sticky rice! Everywhere they went they encouraged people to tune in to the hope-filled programmes that FEBC broadcasts. Some are biblical teaching on subjects like forgiving others, your great worth in Christ, the promise of eternal life. Others are practical guides in developing useful skills and getting buy on very little.  Other programmes connect people inside communities and help them share their resources.
So do not fear, for I am with you; do not be dismayed, for I am your God. I will strengthen you and help you; I will uphold you with my righteous right hand.  (Isaiah 41:10)
The beauty of their courage and faith is this – long after this team leave the slum, the radios will continue to deliver life-giving messages, advice, and company to many many people.
Thanks for your support.
Matt