The apostle Paul wrote to his mentee Timothy with lots of seasoned advice about persevering in spiritually life, and leading others to follow Christ as well. There's plenty of good theology, and good encouragement to grow emotionally healthy too. But my favourite piece of advise to this relatively timid young man starts with a very powerful verb: Think.
2 Timothy 2:7 "Think over what I say, for the Lord will give you understanding in everything."
Not only are we smart to read and listen to wise teaching, but also to consider deeply the truths of God's Word for ourselves and our neighbours.

The Apostle Paul urges his young friend Timothy to "think over" what Paul said. This term is also translated "to ponder," and means to allow thinking time to perceive something clearly. It is the foundation of meditation. People do not usually hear something new and agree and apply it instantly. We all need time to ponder its deep meaning, and to build agreement and resolve within ourselves to follow the ideas.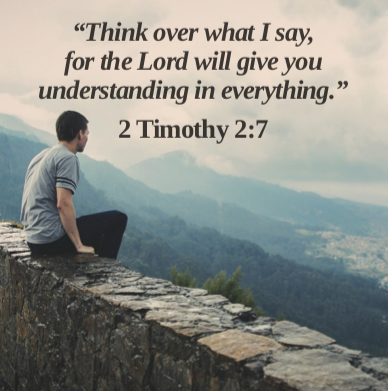 The same word is used in Ephesians 3:20 when Paul glorifies God who "is able to do immeasurably more than all we ask or imagine…" God wants us to dream and explore his greatness with our minds.

So pray for yourself, your neighbours, and our FEBC listeners please, that we will all take time to think and ponder the promises of God. Pray for space in the day to think, while working, walking, driving, resting… It is good and healthy to pause and ponder. Out of such meditations come conviction, questions, creativity and growth.